Direct 2 Line Supplies
We supply 4355 different parts to OEMs every month on JIT basis helping reduce inventory to less than 3 days for our customers.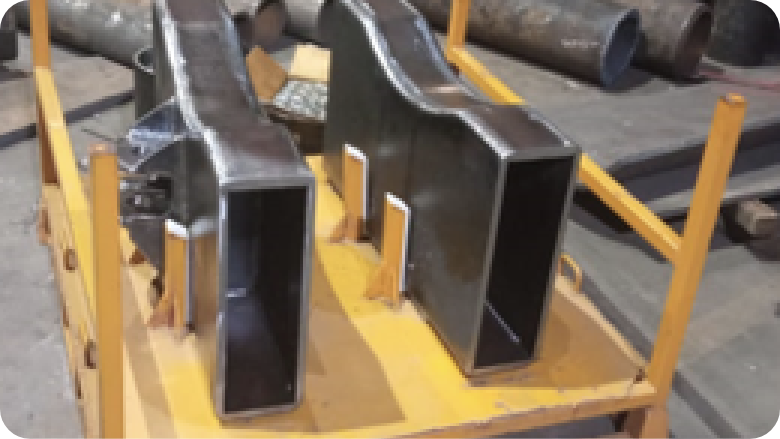 Steel1 supplies 4300+ different parts to Global OEMs in India every month. Parts are Supplied as Cut Kit Parts (first operations of cutting, machining, drilling, bending, etc.) or welded sub-assembly with pre or past machining.
These parts can be supplied to customers incoming parts warehouse, but the real advantage of this solution is to provide kits direct to the fabrication line, ready to use.
For customers within 250km from our factory we maintain MTS production strategy in our factory and dispatch kitted parts on custom pallets from our supermarket
For customers > 250km, we supply kitted parts on custom pallets from dedicated warehouse next to customer. MTS Supermarket is maintained at warehouse. Kitting happens at warehouse.
High Delivery Performance is driven with Made to Stock Supermarkets, and kit based Phantom Assemblies driven through SAP
Customers can inward an entire kit of parts, with one scan of the Barcode Printed on the pallet
Backward integration with Steel supply partners provide +/-10% flexibility within 30 days, and +/-20% flexibility for 90 days
Get in touch with us to help design the right solution for you …
Buckets & Attachments
We Supply attachment for
Skid Steer/ Compact Loaders
Compact/Mini Excavators
Dozers
Backhoe Loaders
Heavy Excavators
Various forms of Supply
Partially Complete Buckets
Fully Painted with Teeth Assembly
Full Integrated with Hydraulics
Supplying 1400 buckets per month to leading global OEMs with a growing footprint in the export markets
We supply General Purpose buckets, Multi-Purpose Buckets, Angle Tilt Buckets, Base Edge Assemblies, & Quick Couplers for different categories of machines.
Collaboration project for early supplier engagements at design stage.
Radiator Guards
Fully Assembled Radiator Guard - Supplied to USA - Direct to Line for the Large Wheel Loader
Various Supply Radiator Guard
Underground Mining Haulers
Large wheel Loaders
Excavators (Under Development)
Various Supply Radiator Guard
Full Painted
Full Painted with Panel Assembly
Direct 2 Line
Established Top Coat Paint finish with Caterpillar